How KISS went from Rock Band to Megabrand
As a kid in third grade, I was the founding member of the "KISS Kool Klub." Like millions of young fans across the globe, KISS spoke to my friends and I musically and visually. Actually, my fascination with the group also landed me in hot
water.
Even back then, I was obsessed with drawing and graphic design. Well, give a youngster who loves to sketch a ballpoint pen and the school bus seat in front of him as a canvas, and you can imagine what happened next – I drew the KISS logo and the
faces of the band members on that seat. I thought it was quality work, but it got me kicked off the bus for a week. Even worse, my mom and I had to go to the bus depot and scrub seats for a day. My early lesson in the power of visual communications
ended badly.
Despite my fingers rubbed raw from all that scrubbing, we kept the KISS fan club together… at least, that is, until we realized just what "KKK" actually meant. Fast-forward a couple decades and I am still fascinated with what KISS has
become – particularly with my leading a branding agency and having such a deep love for design.
KISS's success demonstrates that building and maintaining a strong brand identity is at the heart of all successful marketing. The enduring brand identity of KISS is based on the now-iconic logo, kabuki makeup and over-the-top visuals, like Simmons'
famous tongue, dripping blood, and on-stage fire-spewing antics.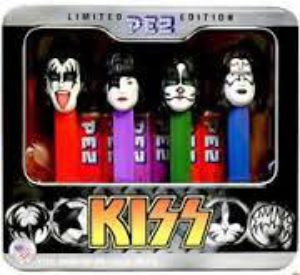 Led by co-founder and pseudo-chief marketing officer Gene Simmons, KISS has entered branding lore by spinning its music and image into marketing gold. It's indisputable that KISS can be categorized as a megabrand when you consider the full catalog
of KISS-related merchandise – from "KISSmas Stockings" at $14.95 a pop, to an Arena Football team, it's estimated that the group has licensed more than 3,000 products since 1977, leading to sales exceeding $1 billion. There's
no end in sight for KISS and their marketing efforts after signing a licensing agreement in 2014 to focus on further global expansion.
The megabrand success that KISS has achieved is no surprise given the fact that Simmons and co-founder Paul Stanley have created and maintained the general principles all successful brands should follow. And while your company may not be "living
the rock star life," that doesn't mean your brand can't achieve rock star status.
Rocking Out Your Brand with 4 KISS-Inspired Branding Principles
1. Creating a strong brand identity – KISS and its electrifying visual identity.
While KISS is widely known as a marketing powerhouse, less has been said about the founding idea of the KISS magic – the band's daring visual identity. What Simmons and Stanley both realized is that delivering a compelling visual message would
energize fans and enable the group to then establish and expand its musical vision.
Taking a closer look at the logo, for example, you cannot help but notice the lighting bolts that stand in for the SS in KISS. The aggression in this single graphic element stands in for the thump in Simmons' bass and the screech in Stanley's
voice. As a rock-n-roll symbol, the only one on the same level would be the Rolling Stones' tongue and lip design logo created by John Pasche in 1970.
2. Daring to be unique – KISS and bold brand positioning.
KISS had the audacity to create an image far beyond the norm. Sure, David Bowie and Alice Cooper proved that different could be profitable, but it was not as if lots of musicians had the chops to back up the theatrics. KISS's gamble easily could have
blown up and they would have been just another washed up New York band that never made the big time.
3. Defining your brand personality – KISS and the superhero persona.
KISS took showmanship to a higher level, essentially creating superhero personas that appealed to a wide audience. As a result, fans no longer saw Simmons as a big guy in a funny costume; instead, he was "the Demon," a blood-spewing, fire-breathing
monster. With superheroes like Spider-Man and the X-Men dancing in their minds, rabid fans had no problem linking these figures with the larger-than-life KISS members.
Band members even made themselves more physically imposing, wearing boots with seven-inch soles to turn them into real-life superheroes. Just as important, KISS entwined the music and visual elements, so the music was just as aggressive, loud, and more
than a little dangerous to mirror their visual component.
Fans viewed the many visual elements of a KISS concert – ranging from billowing smoke and pyrotechnics to stage and costume changes – as both thrilling and dangerous, ultimately generating a buzz around the group that fueled intense growth.
Even near-tragedy cultivated the band's legend, when Simmons accidentally set his hair on fire onstage in late 1973 during a fire-breathing episode. Rather than give up the stunt, Simmons continued with the concert, which only intensified his
superhero persona.
In understanding their target audience (or buyer persona), KISS's creative superhero brand persona was enthusiastically embraced by fans. This illustrates the power of a brand defining its buyer persona to help shape its messaging/personality. Wish to
develop a strong customer fan base of your own? Click here to download (matter)'s guidebook for creating buyer
personas to attract your ideal customer.
4. Building brand equity— KISS both past and present.
In staying true to its founding visual orientation, KISS has reinforced its image for generations of fans, the primary KISS logo still iconic and fueling its merchandising efforts. The band also uses images of themselves individually in their costumes
and makeup, where not many products or organizations are universally known for more than one iconic image. Merchandise for sale on KISS's official website focuses on the band in its early days – using photographs and album covers to present
a fresh, young image to a new generation of fans, while simultaneously using nostalgia to sell those same images to longtime devotees.
Sure, some critics have lashed out at Simmons and Stanley, essentially challenging them for what they consider the duo's shameless plugging of KISS products. Fans, though, have responded quite differently, actually yearning for even more merchandise.
In addition, many popular music artists have paid homage to the band – from Garth Brooks, one of the best-selling musicians of all-time, to Pearl Jam, Pink and Lady Gaga.
Simmons discussed the power of KISS as a symbol of lasting brand equity in a Time magazine article on the eve of the group being inducted into the Rock and Roll Hall of Fame, explaining, "We put on the makeup and the platform heels and we are forever
young." Looking at it from this perspective, one can understand how the KISS brand will surely outlive all its original members.
Though it's certainly been a long time since my third grade KISS Kool Klub days, understanding the power of visual communication and brand messaging has only fueled my lifelong appreciation of both the band and megabrand – now if you'll excuse
me, I have a date with an old KISS vinyl.
At (matter), we've ingrained these rock star branding principals into everything we do to help our clients – from strategy to implementation. Whether we're crafting a new brand identity for a start-up manufacturer, or sales support materials for a global high-tech leader, our goal is to provide creative that evokes emotional connections with each of our client's targeted audiences. We offer the flexibility to serve as either your agency of record or to work with you on a project-by-project basis.