The Brilliance of Branding Partnerships
Though the image of the solo creative genius is inspiring, you might be surprised to know that, for centuries, artists regularly used assistants and apprentices – Michelangelo, Rembrandt and Rubens all relied quite heavily on them in their studios. With the proper support, the work of one genius can be magnified. This is strikingly evident when viewing Michelangelo's Sistine Chapel and then learning of the extensive support he received from numerous assistants who helped with everything from mixing paints and scrambling up and down ladders, to one highly trusted assistant being allowed to paint a part of the background. Yes, in the end Michelangelo created the masterpiece, but his team enabled him to produce the stunning success on such a massive scale.
Although the old masters tended to be very open about the identity of their assistants, that kind of transparency is rarely seen today. However, for marketing agencies that are collaborating with outside resources, a synergy is created between the brightest experts, resulting in brilliant outcomes for clients.
Harnessing talent points in creative and digital.
Analytics alone can't rescue a lack of creative.
The use of outside creative support can be an overlooked resource for digital agencies when the fast-paced demands of content marketing must often be met at backbreaking speeds. Sole reliance on in-house resources can limit creative capabilities. As branding focus continues to shift toward digital initiatives and analytics, industry leaders are asking that we not forget about the core fundamentals, which must include strong creative.
Brad Rencher, the lead for Adobe's digital marketing unit, explains: "What's driving change in marketing and advertising is data, but we don't believe that data is going to replace creativity ever. A highly targeted message that's poor will be outperformed by a great creative message with no targeting."
Smart digital agencies realize that, where big data is fantastic for what it tells us about customers, there are other vital pieces to the marketing puzzle that must not be neglected, such as resonating with a brand's audience using great visuals and storytelling.
This is why digital agencies are increasingly looking to creative agency partners like Matter for support outside their core capabilities, and to assist them with multiple communication channels. For example, a savvy digital marketing agency may work together with a creative agency for visual design or a client's request for collateral materials – all in an effort to complement their digital marketing efforts.
Our digital partners bring our creative to life.
As a creative agency, we appreciate the high level of talent and commitment that's required to successfully assist clients with digital needs. That's why we partner with trusted digital experts that are the best in the field, rather than staffing an extensive in-house digital team. This allows Matter to provide the best outcomes in brand communications, while passing along our cost efficiencies in maintaining
low overhead to our clients.
The end results have been highly successful – particularly in healthcare – where complex information must be translated to the key audience in the most accurate, yet also engaging, fashion.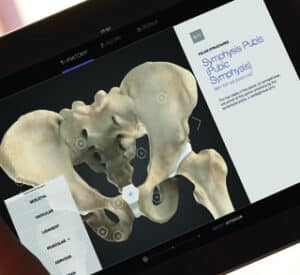 When our client Stryker Orthopaedics asked us to develop a series of interactive online sales training modules for its well-trained sales force, we jumped at the opportunity and enlisted two digital partners. Matter was well aware that, when it comes
to educating a sales force online regarding the complexities of medical devices, human anatomy and how people respond to and recover from injury and surgery, the challenges can be daunting.
Collaborating with our back-end development partners and a specialized medical animation studio from the outset, we created a series of modules effectively demonstrating how Stryker products work in a variety of clinical scenarios. The animations incorporated
3-D anatomically accurate renderings that could be easily rotated to display anterior, lateral and posterior views. In addition to the various view options, the vascular, ligament, muscular and nervous systems and organs were layered in and could be toggled on and off at will, allowing trainees to truly experience the anatomy and how Stryker's products work in a more comprehensive way.
Together, the teams completely transformed numerous visual and information points – including content development and management, images, X-rays, glossary terms, medical reference works, renderings and videos – ultimately producing a simple yet highly sophisticated interactive product that helps sales reps navigate their multifaceted learning journey via an online portal.
Our role places creative on a pedestal.
Another added benefit of our partnerships with outside digital experts has been Matter's ability to retain a sharp focus on our core capabilities of producing thought-provoking, breakthrough creative – even in industries such as medical devices, where fresh thinking in visual messaging has not always been seen as helping a brand resonate with its ideal audience.
One such example illustrated in our work for ConMed, a medical technology company with an emphasis on surgical devices and equipment for minimally invasive procedures. ConMed engaged Matter to visually articulate the benefits of one of their products which restores the surgeon's natural vision and depth perception during minimally invasive procedures.
Since the human body is usually portrayed as skeletal or via crosscut illustration, Matter developed a more creative model by use of artistic expression to symbolize human anatomy. This unique visual messaging successfully achieved ConMed's goal
of resonating with its target audience, attracting new patients to hospitals that offer this innovative device to surgeons.
At (matter), we not only have great respect for the innovative minds in the digital design and digital marketing arena, but we are well-versed in translating visual design and brand messaging across all communication channels. We welcome discussions about your next project and how we can help bring a brand's vision and message to the hearts and minds of their ideal customers.